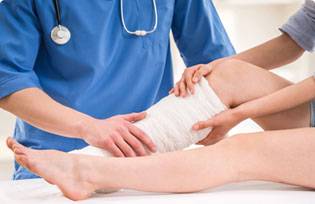 Orthopedic
Orthopaedics is a branch of medicine that focuses on the prevention, diagnosis, and treatment of disorders related to the musculoskeletal system. This system includes bones, muscles, ligaments, tendons, and other connective tissues that provide support and allow movement of the body.
Orthopaedic doctors or surgeons specialize in the treatment of various musculoskeletal conditions such as fractures, dislocations, sports injuries, arthritis, back pain, and other musculoskeletal disorders. They use a variety of non-surgical and surgical techniques to diagnose, manage, and treat these conditions.
Orthopaedic surgeons may perform a wide range of surgical procedures, including joint replacement, bone grafting, arthroscopy, spinal fusion, and other complex surgeries to correct deformities or injuries. Non-surgical treatments may include physical therapy, exercise, medications, and other rehabilitation techniques.
Orthopaedics is a diverse field that includes a range of sub-specialties such as paediatric orthopaedics, sports medicine, spine surgery, trauma, hand surgery, foot and ankle surgery, and joint replacement surgery. Orthopaedic surgeons work closely with other healthcare professionals such as physical therapists, occupational therapists, and pain management specialists to provide comprehensive care for their patients.
Meet Our Doctors
Senior Consultant Medical Orthopedics in Apollo Hospitals New Delhi
MBBS, MD, DM
Make an Appointment